Workshop klassieke dans met Aki Saïto
Op zondag 22 oktober 2023 verwelkomen we Aki Saïto voor een workshop klassieke dans. Tijdens dit interactief lesmoment gaan we dieper in op de Vaganova-techniek! Een must voor elke werelddanser in wording.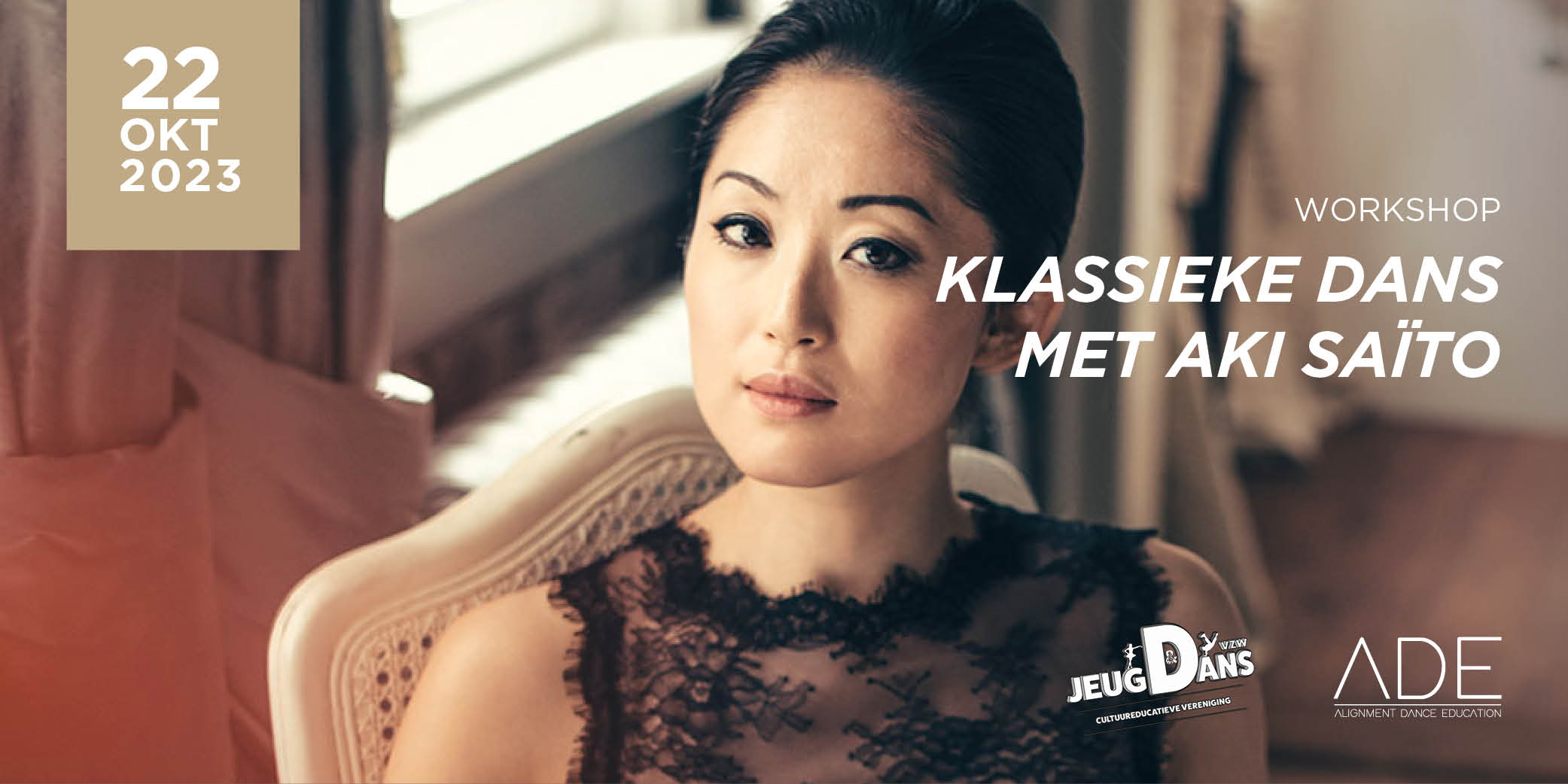 Biografie
Aki Saito was born in Japan. She began her ballet training in her home city of Morioka at the age of seven. In 1990 she won the first prize at the Japanese Competition for Young Dancers and in 1991 she was awarded a scholarship at Prix de Lausanne, which allowed her to train at the Royal Ballet School Antwerp, she also win the Gold medal at the Concours International de Danse in Houlgate, France. In 1994, she joined the Royal Ballet of Flanders as a half soloist and became a first soloist in 1998. She was promoted to the rank of principal in 2004 and since then she has danced most of the principal roles in the company's classical and contemporary repertoire, including a new version of Swan Lake created by Marcia Haydée for her and her partner Wim Vanlessen.
In 2014, The company celebrated her and her partner Wim Vanlessen's 20 years anniversary with Onegin which she was also chosen "Outstanding Performance" by DANCE EUROPE in 2015.
In 2018 she danced Akram Khan's Giselle as her farewell performance with the Royal Flanders Ballet and nominated by the dancer of the year by "Dance Europe". She is currently teaching at the Royal Ballet School in Antwerp. She is also invited to the Royal Flanders Ballet as a guest teacher and the other international ballet courses.
Her repertoire includes Sleeping Beauty, Onegin, Giselle, Coppelia, The Nutcracker, Romeo and Juliet, La Bayadère, Don Quixote, The Four Temperaments, Theme and Variations, Tchaikovsky Pas de Deux, Divertimento no.15, Who Cares?, Serenade (George Balanchine), Sonate (Maurice Bejart), Forgotten Land (Jiří Kylián), Infra (Wayne McGregor), Chronicle(Martha Graham), The Grey Area (David Dowson), Lost by Last (Jorma Elo), Orpheus (Michael Corder), Artefact, Impressing the Czar, Herman Schmerman and In the Middle Somewhat Elevated (William Forsythe) for which she received wide critical acclaim.
Aki was also a frequently invited guest artist to various international companies and gala performances. She has appeared with Ballet de Santiago and The Hong Kong Ballet as well as in the Gala des Etoiles in Paris, Gala en Teatro Municipal, The Gala of Prix de Lausanne, Dance Salad in Houston, Texas, The Prague Ballet Gala, and The Aoyama Ballet Festival of Tokyo. She was also invited to dance at the international gala preceding the 1998 Winter Olympic Games in Nagano and has performed the leading roles in Giselle, Swan Lake and Don Quixote in her home city of Morioka.
In addition, Aki has also served as a jury member with the Prix de Lausanne in 2003, 2005, 2007 and 2017, and with the Prix Carpeaux in 2009. She has been invited to teach at many different international ballet courses and received the Fresh Prize by the Board of Education of Iwate, Japan, as well as the "Ballet 2000" Critics Award in Cannes in 2007. She was also chosen "Outstanding Performance" by DANCE EUROPE in 2015 as a Tatiana in John Cranko's Onegin and Love Fear Loss by Ricardo Amarante. In 2016 she received the title Ridder in de Leopoldsorde.
Wil je op de hoogte blijven van onze events?
Schrijf je dan in voor onze nieuwsbrief!